Product Overview of Bode Pro Burn
Bode Pro Burn helps to replenish key nutrients found in Mangosteen, Green Tea and Aloe Vera. A boost of body metabolism throughout the day supports a healthy weight management program.* Bode Burn features a first of its kind ingredient blend, including protein, soluble fiber and supporting weight loss ingredients to keep the bode in high gear. Bode Burn is available in an 8 ounce lightly carbonated can or in a convenient on the go pack. Bode Pro Burn is officially know as Bod•ē Burn or Bode Burn.
Bode Pro Burn will get you on your way to achieving your desired weight.*
Enhance Your Body's Burn Potential
20 Grams Protein helps maintain lean muscle, boost your metabolism and keeps you feeling full longer*
Bode Burn Enhances your body's burn potential*
Bode Burn Curbs your appetite*
Bode Pro Burn Provides you nutritional support*
No artificial colors
No artificial flavors
No gluten
No soy
No dairy
Bode Burn Product Usage and Target Market
Bode Burn 8 Ounce Can
Bode Burn is tastes best when it is cold and be sure to shake gently. Bode Burn is to be used as a protein snack at any time of the day. A suggestion to kick off your metabolism in the morning is to start it with a can of Bode Burn. If you are pregnant or nursing or have a medical condition please consult your provider before using Bode Burn. This is used as a dietary supplement and if you get an allergic reaction discontinue use.
Bode Burn Concentrate Packet
Mix Bode Burn powder concentrate with 14 to 20 ounces of purified water. It is recommended you stir or shake well. It is the identical usage as the 8 ounce can and has the same precautionary statements. The Bode Burn concentrate packet is convenient and on the go product which is easy to pack.
Bode Burn is intended for individuals who are seeking a results driven product which is convenient and supports healthy weight management. This couples with nutritional supplementation will help you meet your goal weight whether it is muscle growth and/or weight loss.*
Bode Burn Supplemental Facts and Ingredients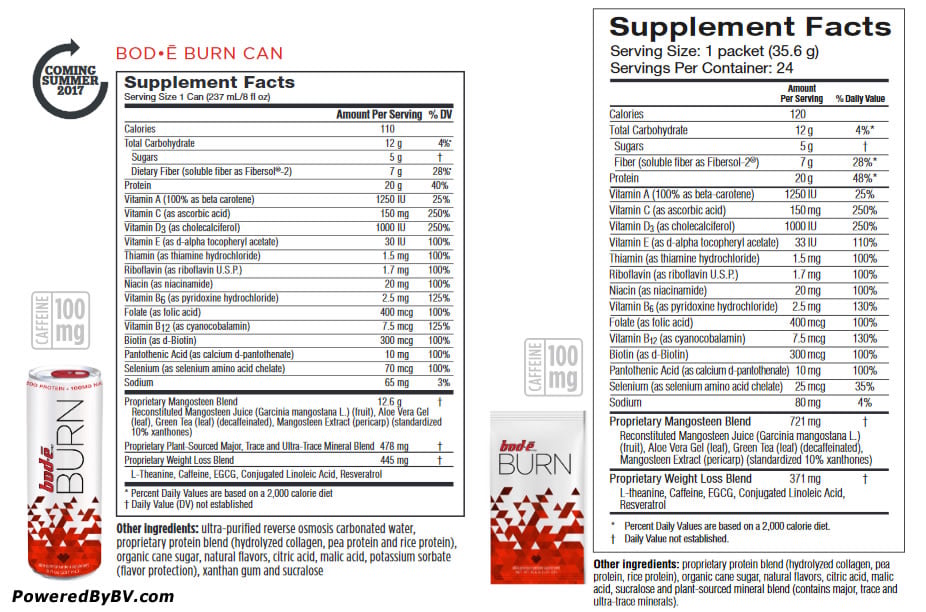 Bode Burn Key Ingredients
12 Essential Vitamins including antioxidant vitamins A, C and E vital for health and well being*
Plant Sourced Mineral Blend with over 65 major, trace & ultra trace ionic and life giving nutrients
Phytonutrient Ingredients with a blend of powerful plant and natural components that help promote good health*
Organic Glyconutrient Rich Aloe Vera which is a powerful phytonutrient know t provide the body with many beneficial effects*
Organic Green Tea for additional antioxidant power and phytonutrient protection*
Whole Fruit Mangosteen which has an abundant supply of whole fruit Mangosteen and beneficial pericarp (rind) extract that provides some of the highest quantities of phytonutrients (xanthones) found in nature
20 Grams of Protein which is a proprietary protein blend of hydrolyzed collagen with pea and rice works to suppress your appetite and protects against muscle loss*
7 Grams of Soluble Fiber which is a dietary fiber source to help you feel fuller and satisfied longer*
L-Theanine which enhances mental alertness and focus*
100 MG of Caffeine With EGCG which  fires up your energy level*
Resveratrol a naturally occurring compound is found in the skin of grapes and other fruits and is thought to promote antiaging and have strong, restorative antioxidant properties*
 The Science of Minerals in Bode Burn
Your body is directly dependent on minerals for your physical well being. Mineral help support the organs, bones and the immune system. Bode Burn has a unique source of mineral that contain 100% ionic, life giving minerals that are reduced to the smallest, most bioavailable form. These unprocessed phytonutrients include over 65 major, trace and ultra trace plant sourced minerals.
Bode Burn is the right choice for you if you are seek weight management control …
The body cannot manufacture minerals yet it cannot survive without them. What happens to day is modern day diets lack the minerals that usually come from rich soils. The soils today are depleted and lacking minerals. Also our diet relies heavily of over processed foods. Bode Burn's mineral blend supplements your current diet in order for you to maintain optimal health.
Bode Burn is the right choice for you if you are seek weight management control … it's nutrient value is incredible. Bode Burn can be taken daily. Just to let you know the caffeine is naturally derived fro the coffee bean and is equivalent to about one and a half cups of coffee. Some people are sensitive to caffeine but it does enhance your mood and athletic performance.
Antioxidants are substances found in nature that protect cells form the damage cause by unstable molecules know as free radicals. Overexercise, stress, exposure to dirty air and pollutants explode free radicals in your body. Selenium and vitamins A,B and E possess antioxidant properties and may help fight free radicals in your body.*
The Mangosteen fruit is a key ingredient of Bode Burn. Mangosteen along with Aloe Vera and organic Green Tea provide incredible phytonutients.
Bode Burn is made at a facility that meets FDA manufacturing standards called Good Manufacturing Practices (GMP). This ensures our product meets the highest quality possible. Bode Burn is manufactured using a special proprietary process to protect the delicate balance of vitamins, minerals and phytonutrients right up to the moment of consumption.
Please consult your health care provider before taking Bode Pro Burn. This is a recovery beverage that does not contain alcohol or narcotics. If you require a protein boost grab some Bode Burn.
*These statements have not been evaluated by the Food and Drug Administration. This product is not intended to diagnose, treat, cure or prevent any disease. To be used in conjunction with a healthy diet and daily exercise.